This idea came to me when I remembered how cool those evil racist dudes from Bioshock Infinite looked. You could probably have a couple nights of D&D with this concept.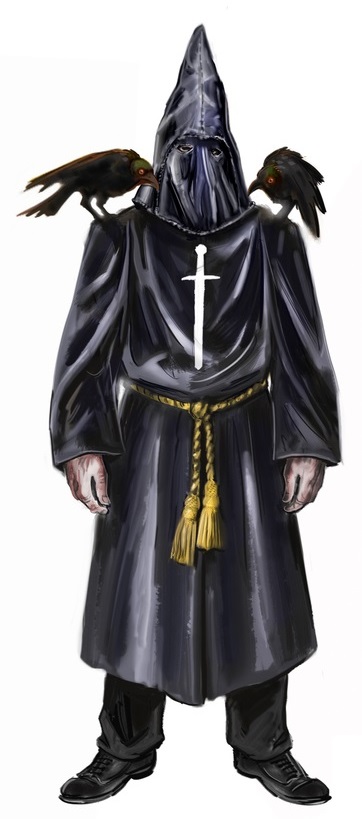 A druid in the nearby wood has become a master of birds. The crows, ravens, and magpies alike are drawn to them. Multiple hunters have been found with their eyes pecked out, their throats torn open. Most mysteriously, though, are those who return complaining of being surrounded by crows that nobody can see.
The
Master of Ravens
is a pitiful druid broken off from their tribe. The Master encountered a strange group of corvids in the recent months, and has formed a strange sort of bond with them. The bond is honest and genuine, and the ravens are not evil by nature. Perhaps not even the druid truly is.
They carry a huge birdcage filled with up to 20 ravens at any given time. The cage rattles and shifts on their hunched back.
If confronted, The Master opens the cage doors and commands the ravens to fly not at, but
past
their enemies.
If a raven disappears past your peripheral vision (as in, can be seen out of the corner of your eye but then leaves your line of sight), it can enter your vision, vanishing from the Waking World and reappearing inside you. Not in your brain, or your eyeballs, or anything crude like that. The devilish little bastards find their way into your perception itself.
Just one of them is distracting, one little bird fluttering in front of you yet never flinching at your frantic waving around. As more enter, it becomes harder and harder to focus on what's right in front of you. Eventually you're blinded and maddened by crows that aren't even there.
You could implement a -1 on all rolls for each raven in their vision, until the player becomes blind and then your rulings would just take over. Most importantly, explain nothing to the players. Only affected players will see the birds. Everyone else will simply see them disappear, and nothing more. This could frustrate the affected player; let them figure it out.
The only way to get your sight back is if the crows get hungry and flit back to the Waking World to have some birdseed. If you don't have it ready for them when they leave they will be at least a little pissed with you, and crows are smart enough to remember faces.
The Master is convinced, to the point of delusion, that the ravens chose them for a reason.
The Master has forgotten that nature does not innately bend to man, forgotten that their purpose is to be a part of nature, not command it.
If you befriended the ravens you may have a chance. Otherwise, get used to your wizard being blinded, panicked, and killed.